36 Hours in Ho Chi Minh City
<![if !vml]>

<![endif]>
Justin Mott for The New York Times
By EMILY BRADY
Published: December 21, 2008
HO CHI MINH CITY, or Saigon, as most locals still call it, is a relative newcomer. With only three centuries of history, compared with Hanoi's thousand years, the city has a youthful spirit and is quick to embrace change. This is not the Saigon familiar to the West in films like "Apocalypse Now"; it's a forward-looking city, home to glittering skyscrapers, innovative fashion and a pulsing night life. As Vietnam's largest city, it has an energy and noise level that can be at once exhilarating and wearying. Sure, you can still catch an occasional glimpse of picture-postcard Vietnam, like an old woman in a conical hat pedaling a bicycle, but she'll most likely be lost in a sea of motorbikes, rumbling toward the future.
Go to the Ho Chi Minh City Travel Guide »
Multimedia
<![if !vml]>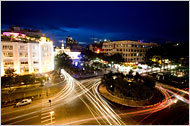 <![endif]>Slide Show
A Weekend in Ho Chi Minh City, Vietnam
<![if !vml]>
<![endif]>Map
4:30 p.m.
1) COOL COFFEE
In Vietnam, coffee is brewed directly into your cup through a small, metal filter. Add ice and sweet condensed milk and you have a café sua da, an antidote to the thick heat and the perfect way to refuel. At Café Terrace (65 Le Loi Street; 84-8-3821-4958), a trendy spot in the city's center, you can drink your coffee (30,000 dong, or $1.70 at 17,647 dong to the dollar) outside beneath an umbrella, or retreat to the stylish, air-conditioned interior, decorated with red curtains, vases of white lilies and lots of pretty people lounging in comfy chairs.
6 p.m.
2) TAILOR-MADE
Dong Khoi Street has long been home to some of the city's finest shopping. In colonial times, it was known as Rue Catinat, and was where the narrator in "The Lover," by Marguerite Duras, claimed she bought her infamous felt hat. Today, it's a great place to window shop, home to more silk and handicraft stores than hat shops, not to mention tailors. In a country where custom-made clothing is an affordable luxury, tailors abound. For one with panache and a 24-hour turnaround, duck into Tricia & Verona (39 Dong Du Street; 84-8-3824-4556; www.triciaandverona.com). This boutique and workshop is run by two sisters who have Anglicized their names to reflect their more Western sense of style — namely, more daring cuts. Summer dresses start at $34, men's suits at $160.
8 p.m.
3) OFF THE STREET
What happens when you gather Saigon's finest street chefs in one location? Enjoy finding out at Quan An Ngon (138 Nam Ky Khoi Nghia; 84-8-3825-7179), an open-air restaurant with one menu listing each chef's specialty. The place bustles at night with locals and in-the-know foreigners waiting for Vietnamese classics like bun cha — vermicelli with minced pork balls and fresh herbs — and green papaya salad with shrimp (24,000 dong each). Fortunately, there are a lot of tables, so the line moves quickly. For dessert, don't miss the che suong sa hot luu (10,000 dong), an oddly delicious combination of coconut milk, tapioca pearls, water chestnuts and jelly worms, served in a tall glass over crushed ice.
10 p.m.
4) MIX IT UP
After serving stiff cocktails and eclectic music to expats for a decade, the ever-popular Vasco's (74/7D Hai Ba Trung Street; 84-8-3824-2888) this year moved to nicer digs. At its new location in a tiny alley, the outdoor balcony is great for chatting, while indoors it's all about the music, which can range from visiting French D.J.'s to Vietnamese rap. If the music isn't to your taste, duck into one of the sedate bars downstairs, where you'll find a lot of French and other expats sipping wine.
Saturday
10 a.m.
5) CHINATOWN
Stroll through the ancient quarter of Cholon and you'll hear more Chinese spoken than Vietnamese. A 20-minute cab ride from District 1 (around 80,000 dong), this Viet-Chinatown is home to many fine temples, like Quan Am Pagoda (12 Lao Tu Street), built in 1818. Coils of incense hang from the ceiling, perfuming the air, along with the slender, golden sticks the faithful leave as offerings. In front of the main altar is a statue of Quan Am, the Goddess of Mercy. A nearby courtyard has nooks dedicated to other deities and a small pond filled with turtles.
1 p.m.
6) BLACK EGGS
For everything from fermented duck eggs to flip-flops, head to Binh Tay Market, a rambling market laid out like an Arab souk and far less touristy than the Ben Thanh Market downtown. Situated between Thap Muoi and Phan Van Khoe Streets, the market is divided into sections that contain everything one might need to run a household, from kitchenware, to cloth, to candied fruit. Pushy peddlers are almost nonexistent; some merchants even nap in hammocks between customers. Toward the back, you can grab lunch, like a tasty bowl of seafood noodle soup at one of the many stalls (18,000 dong) and listen to a rooster crow in the nearby butcher section (not for the squeamish).
3 p.m.
7) DE-STRESS
Push through the lavender doors of L'Apothiquaire Artisan Beauté (61-63 Le Thanh Ton Street; 84-8-3822-1218; www.lapothiquaire.com) and be greeted by the soothing sound of flute music and a cup of anti-stress herbal tea. This tiny day spa feels straight out of Provence, though the motorbikes buzzing by the front doors are a distinct reminder that you're still in Saigon. The spa offers a range of body treatments, including mud wraps ($30) and 75-minute Swedish-style relaxation massages ($37). There are also house-brand aromatherapy beauty products for sale, along with the anti-stress tea, in case the soothing effects of the massage wear off.
5:30 p.m.
8) SUNDOWNER
During the "American War," as it is called here, the Rex Hotel (141 Nguyen Hue Boulevard; 84-8-3829-2185; www.rexhotelvietnam.com) was the home of the "Five O'Clock Follies," the daily briefings the United States military gave the press corps. Today, the palm-lined rooftop bar provides a kitschy setting — complete with giant ceramic elephants — for a sunset pastis (65,000 dong) or fresh pineapple juice (48,000 dong).
8:30 p.m.
9) COLONIAL DINING
Follow the trail of lanterns up the dimly lit stairs to Temple Club (29-31 Ton That Thiep Street; 84-8-3829-9244), an elegant restaurant. The place has a colonial feel, with white tablecloths, whirling fans and antique silverware to accompany the chopsticks, but most of its menu is distinctly Vietnamese. Favorites include grilled beef on lemongrass skewers and fish wrapped in banana leaf (120,000 dong).
10 p.m.
10) CAGED-IN
At Cage (3A Ton Duc Thang Street; 84-8-3910-7053), a chic new club that opened last June, the namesake birdcages are suspended around crystal chandeliers and filled with votive candles as table decorations. Live music is offered five nights a week. On a recent visit, a Vietnamese singer belted out Joni Mitchell's "Big Yellow Taxi." A few hours later, a D.J. got the expats and Vietnamese on their feet with salsa music. For those craving privacy, there are little nooks off to the side, filled with plush purple couches and veiled by long lavender tassels.
Sunday
11 p.m.
11) BONSAI AND ELEPHANTS
Retreat from humanity at the Saigon Zoo and Botanical Gardens (2B Nguyen Binh Khiem Street; 84-8-3829-1425; www.saigonzoo.net; admission, 12,000 dong), also home to a temple and history museum. The gardens, established by a French botanist in 1864, feature 2,000 trees including Chinese incense-cedar, a bonsai "forest" and a large greenhouse full of purple orchids. Animals include bored-looking orangutans in cages close enough to touch and a small herd of Asian elephants. There is also a colony of penguin-shaped garbage cans scattered around the place, along with many benches where you can sit and ponder this surreal touch.
THE BASICS
There are no direct flights between Ho Chi Minh City and New York, but several carriers, including Continental, Cathay Pacific and Japan Airlines, fly between the two cities with a connection, usually in Hong Kong or Tokyo. Round-trip fares for January travel start at about $1,100, according to a recent search online. A cab ride from Tan Son Nhat Airport to the city center costs about 100,000 dong ($5.67 at 17,647 dong to the dollar). Most major attractions are accessible on foot, though taxis and moto-taxis can be hailed everywhere.
The ultra-swank Caravelle Hotel (19 Lam Son Square; 84-8-3823-4999; www.caravellehotel.com) overlooks the opera house and the Saigon River, and has 335 sleek rooms, starting at about $230.
Across the square is the historic Continental Hotel (132-134 Dong Khoi Street; 84-8-3829-9201; www.continental-saigon.com). Founded by a Frenchman in 1880, the hotel was a popular watering hole for journalists during the war. It has high ceilings and lots of carved wood. Rooms start at $125.
Easier on the budget is the modern Elios Hotel (233 Pham Ngu Lao Street; 84-8-3838-5584; www.elioshotel.vn), a new, 90-room guesthouse overlooking a leafy park in Pham Ngu Lao, the backpacker district. Rooms with a view start at $80, including breakfast.
This article has been revised to reflect the following correction:
Correction: January 4, 2009
The 36 Hours column on Dec. 21, about Ho Chi Minh City, misstated the location of the Temple Club restaurant. It is across the street from a Hindu temple, in what was once a guesthouse for the temple; it is not in a former Chinese temple.